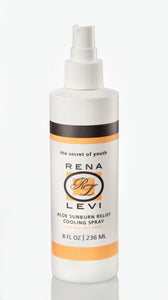 Looking for soothing relief from sunburn pain without further irritation? Try our cooling spray, featuring patented Acemannan Hydrogel. This certified organic and kosher product meets or exceeds all FDA, USDA, and ISO requirements. Plus, it's been proven to benefit burns and wounds by enhancing tissue repair and healing, strengthening the skin's natural defenses, and restoring stressed or sunburned skin to normal appearance and function.
Our cooling spray is effective on all skin types and conditions, making it a safe and gentle option for delicate skin like babies or elderly skin, as well as problem skin conditions such as acne, eczema, or rosacea. It provides immediate pain relief for stressed or sunburned skin, without further irritating the skin. And, it's the perfect post-treatment application for after waxing or peels, accelerating the benefits of your treatment while promoting the healing process.
The patented ingredient in our spray is an aloe extract rich in acetylated mannans that leave a thin, natural, permeable layer on the skin, acting as a moisture barrier that softens and moisturizes the skin. With exceptional smoothness and glide properties, our spray leaves skin feeling naturally soft and hydrated, while the moisture barrier locks in hydration to enhance tissue repair and nourishment. For effective and gentle relief, choose our cooling spray with our Aloe Sunburn relief cooling spreay.