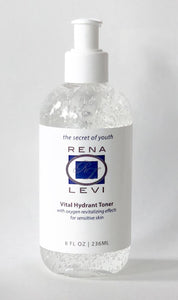 Vital Hydrant Toner is a refreshing, alcohol-free formula that removes any residual makeup and impurities, while preparing the skin's surface for better reception of additional nutrients.
 
✅ Safe & effective usage on all skin types and conditions
Proprietary, formulation contains concentrations of naturally occuring bisabolol (colorless, viscous oil from chamomile), green and blue algae extracts, and hyaluronic acid (naturally occurring in healthy skin cells) to moisturize the cells and retain ideal hydration levels.
✅ The exceptional soothing and moisturizing properties of this formula accelerate the healing process of the skin cells and restore overall skin balance.
✅ Anti-irritant, anti-inflammatory, anti-bacterial, and anti-microbial properties.
✅ Algae extracts are rich in antioxidants and minerals that firm and tone by reducing extracellular matrix degradation.
✅ Not only is the skin cleansed, conditioned, and rehydrated, but it is restored to a healthy, normal balance.
✅ Continues to improve in appearance and tone with extended usage.
✅ Skin is left refreshingly clean and soft.
✅ The benefits are numerous & include toning, soothing, detoxifying, exfoliating, normalizing pH balance.
✅  Works well in soothing many skin abnormalities such as eczema, rosacea & psoriasis
Subtle, floral/herbaceous, natural fragrance from the essential oil of lavender and bisabolol (chamomile).
No irritating chemical fragrances; lavender is natural pain reliever, antibiotic, anti-inflammatory & antiseptic that enhances the immune system & promotes new cell growth. Bisabolol has also been used for hundreds of years in fragrances and cosmetics due to its soothing and healing properties