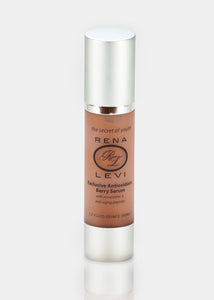 This high-powered antioxidant fruit blend combined with anti-aging peptides provides a new way to quench the skin's need for protection and free radical fighting power.  
A combination of fruit acids, resveratrol and peptides has set the standard of performance for antioxidant products.  This product is the highest performing antioxidant private label product available.  Tested for its potency, this serum contains an ORAC value of 2000 units per gram.  This exceeds by far the recommended "high" range of 150-300 units per gram, provided by an independent testing lab.
Light easy to apply serum in the color berry/beige.  Scented in Lavender essential oil.
USE
Spa and Home - Apply to cleansed skin before moisturizer or sunscreen for daytime use because there is a higher chance of being exposed to free radicals during the day.
 This formula can be used at night in addition to your nighttime regimen.  At night, apply Serum before moisturizer.  This formula can be used with your existing product regimen.
KEY INGREDIENTS
Malus Domestica Fruit Cell Culture Extract – A rare, Swiss, apple that has special longevity properties is incorporated in this serum.  Swiss researchers found, that the answer to this amazing longevity lies in the apples' stem cells.  The apple stem cell ingredient helps to protect the skin stem cells from aging.  
Resveratrol – One of the most powerful antioxidants around, high in Proanthocyanidins, a group of bioflavonoids superior to most because they are water soluble and more easily assimilated by the body.  A hard-working free radical scavenger, it prevents skin cell damage caused by sun exposure and pollution.
Theobroma Cacao (Cocoa) Seed
– High levels of antioxidant polyphenols (natural antioxidant).
Vitis Vinifera (Grape) Fruit Extract
– High Ranking Polyphenols (natural antioxidant).
Coffea Arabica (Coffee) Extract
– High Ranking Polyphenols (natural antioxidant).
Camillia Sinensis (Green Tea) Leaf Extract
– Anti-inflammatory botanical.
Gellidiela Acerosa (Algae) Extract
– With beneficial enzymes & minerals.
Garcinia Mangostana Peel Extract
– Anti-inflammatory fruit extract, high in antioxidants and known as Xanthones.
Elettaria Cardamomum Seed Extract
– Member of the ginger family.