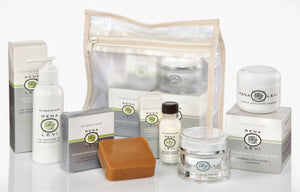 Over 40 years of experience in advanced, natural skincare products and clinical application has produced this superb and complete acne kit formulation. 
Rena Levi Skincare's Complete Acne Kit is marked as a revolutionary breakthrough in skincare science that consistently beats the competition in regards to effectiveness, how quickly results are seen, and the quality of our products.
Our products are not harsh on the skin and we use the only pharmaceutical grade aloe available on the market to produce natural and proven results time and time again.
Rena Levi Skincare's complete acne kit safely treats acne prone skin to stimulate cell renewal and optimal tissue rebuilding, while healing current acne prone areas.
The Vanishing Act Acne Soap $34.99
The Vanishing Act - On the Spot! Solution $34.99 Value
The Vanishing Act Light Moisture Cream  $39.99 Value

The Amazing Scrub Acne Treatment $64.95

The Vanishing Act Papaya Enzyme Polish $64.99
Note: Picture is not the updated kit which includes a larger formulation of the On the Spot! Solution, New Packaging for the Light Moisture Cream, and now has the Papaya Exfoliator Added!